ANDlight
______



DECORATIVE
LUMINAIRE
DESIGN AND
MANUFACTURER

---
---
---
______
OPTIONS
---
BUTTON
Available in White, Black, Gold, and Bronze.
6"ø / 15cm x 5cm / 6" x 2"
---
WHITE
---
BLACK
---
GOLD
---
BRONZE
---
PIPELINE
Available in White, Black, Brushed Aluminum, Copper, and Brass.
6"ø / 15cm x 5cm / 6" x 2"
---
WHITE
---
BLACK
---
BRUSHED ALUMINUM
---
COPPER
BRASS
---
SLAB
Available in White.
6"ø / 15cm x 5cm / 6" x 2"
---
ALL PENDANTS
---
SLAB 20
---
SLAB 20.3
---
SLAB 20.5
---
SPOTLIGHT VOLUMES, VINE
Available in White.
5"ø

---
---
ORBIT
Available in White.
5"ø
---
---
CORD COVERS
Available in White, Grey, Brown, and Black.
Extra cord length available upon request.
---
WHITE
---
GREY
---
BROWN
---
BLACK
---
OPTION GLASS GLOBE, SPOTLIGHT VOLUMES
Available in Opal White Glass.

Shade A: 127mm / 5"
Shade B: 177.8mm / 7"

---
SHADE A
---
SHADE B
---
---
______


DESIGNERS
---
CAINE HEINTZMAN

Caine Heintzman brings an expressive command of lighting's technicalities, along with a deep historical knowledge and awareness of the field, its sources and its many forms to ANDlight.

Trained in Industrial Design at ECUAD and Kunsthochschule Berlin Weissensee, lighting was one of Caine's very early interests. Working within and without formative parameters, he applies his creativity and experience to achieve the senatorial richness and aesthetic refinement that is the hallmark of any great object.
---
---
SERIES FOR ANDlight
---
LUKAS PEET
Lukas Peet has been practicing his craft with an aesthetic maturity and fluidity that has commanded recognition, since graduating from the Design Academy of Eindhoven in 2009.

He has been recognized internationally in a number of awards and competitions, notable Winner of Canada's Emerging Designer Award. His designs have been produced by international manufacturers such as Roll & Hill, Umbra Shift, and Karakter.

To ANDlight, Lukas brings a vast curiosity about objects, processes, materials and production techniques; he brings his desire to challenge the familiar and the normative, and everything in between.
---
---
SERIES FOR ANDlight
ANDlight, decorative luminaire design and manufacturer.

______
Born from a desire to produce functional lighting, luminaire design and manufacturer ANDlight aims to create honest products. With an authentic approach to the design process, the production, and the way of conducting business, ANDlight has established itself as a brand with substance since its launch in 2014. It proposes approachable products that are timeless in form and reliability, refined in aesthetics, with an astutely applied touch of playfulness.
ANDlight's luminaires are designed, built and assembled in their native Vancouver, Canada.
---
SUSTAINABILITY POLICY
TERMS & CONDITIONS
domus - February 2020
Design Milk - February 2020
Damn Magazine - February 2020
Dezeen – February 2020
---
ELLE Decor Italia – January 2020
designboom – January 2020
domino – January 2020
The New York Times Style Magazine – January 2020
Sight Unseen – January 2020
---
ELLE Decor Mexico – October 2019
ELLE Quebec – October 2019
Sight Unseen – October 2019
NUVO – October 2019
Design Milk – October 2019

---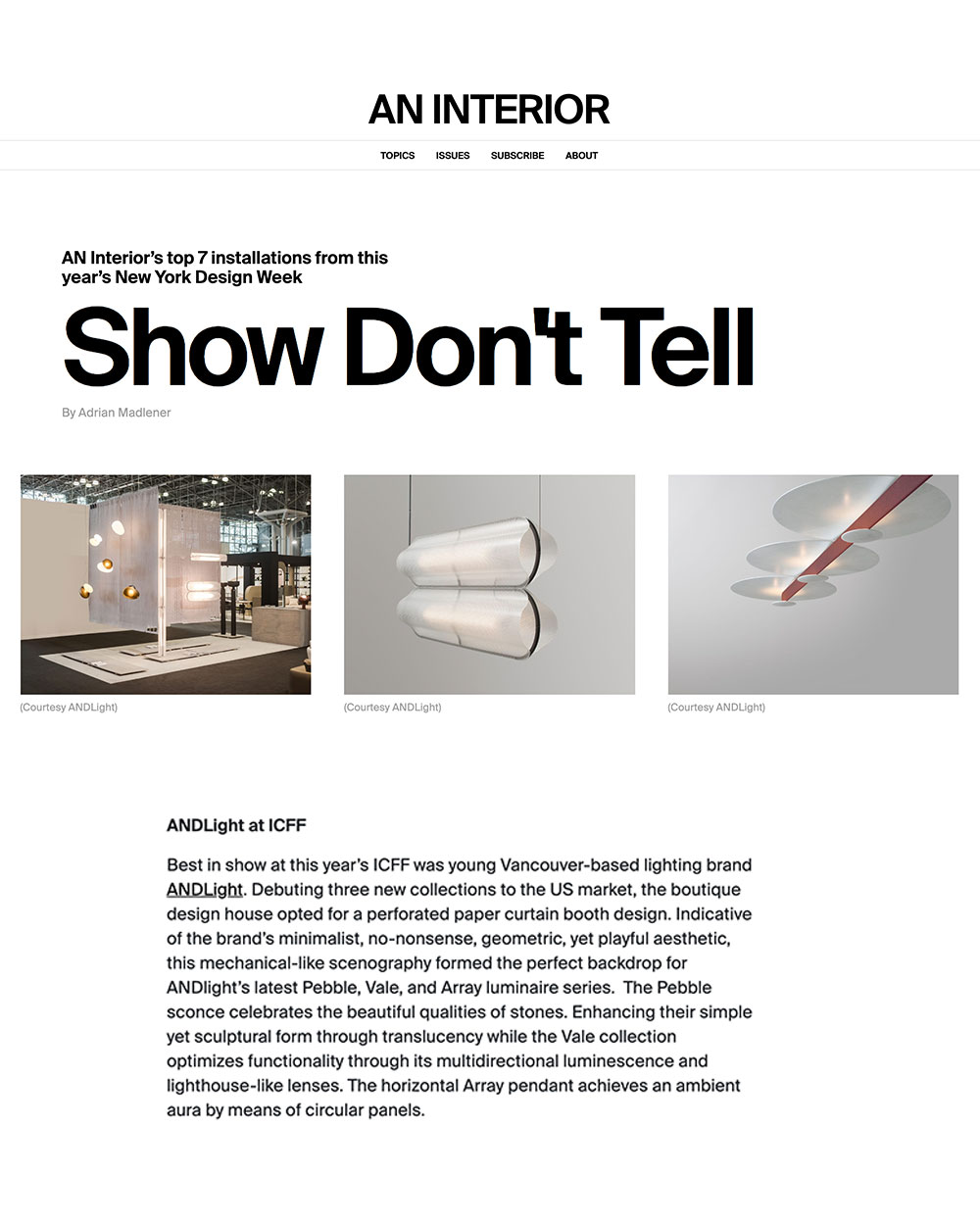 Directorio de Iluminación

The Light Report 2020 – October 2019
AZURE – July/August 2019
AN Interior – June 2019
---
ELLE Decor Mexico - May 2019
MONOCLE - April 2019
AZURE – April 2019
id.Interior Design – May 2019
Habitus – May 2019
---
Clippings Milan Report – April 2019
Archiproducts – March 2019
Azure – April 2019
Design Milk – April 2019
Sight Unseen – April 2019
---
Dezeen – April 2019
Azure – December 2018
Frame – November 2018
Azure – July/August 2018
---
Elle Decor Italia – April 2018
Sight Unseen – April 2018
Azure – April 2018
say hi to_ – April 2018
---
WOTH – April 2018
Dezeen – June 2018
FRAME – February 2018
---
METROPOLIS – October 2017
AZURE – June 2017
Dwell – May 2017
---
Wallpaper – April 2017
Interior Design – October 2017
---
Globe & Mail – June 2015
CASA Vogue – June 2015
Details – March 2015

---
Hypebeast – Fall 2014
AZURE – February 2014
Montecristo – Spring 2014